GLASS AND WATER
- The Essential Guide to Freediving for Underwater Photography by Mark Harris
Cover Image by Laura Storm - there's a little more about the images and our journey with this project in my
blog
and a small selection of my other
Glass and Water
images in the portfolio
BILLBOARD
.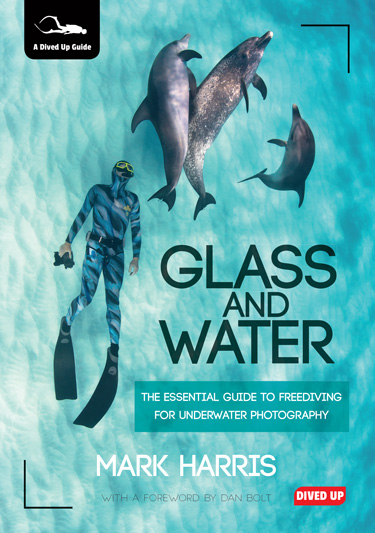 Glass and Water
is the first book on underwater photography for freedivers. With contributions from expert underwater photographers this book teaches the skills, knowledge and equipment necessary to successfully pursue underwater photography without scuba gear.
Rather than seeking to replace books on underwater photography,
Glass and Water
focuses on freediving techniques, equipment and photo opportunities. By carefully choosing or adapting freediving and photographic equipment some early hurdles can be avoided. Using appropriate freediving techniques can increase the length of time available for taking photographs underwater. And by being aware of the possibilities, frustrations can be avoided and good subjects sought out.
Includes photos and/or contributions from Fred Buyle, Sue Flood, Danny Kessler, Dr Anne-Marie Kitchen-Wheeler, Laura Storm, Andrew Sutton, Shane Wasik, and a Foreword by Dan Bolt.
Contents include: Foreword by Dan Bolt; Free­diving Equipment for Underwater Photo­graphy; Photographic Equipment; Underwater Photography Basics; Challenges and Opportunities for Freedivers; Lungcraft; Finning; Descents and Ascents; Neutral Buoyancy; Hydrodynamics; Safety; Creature by Creature; A Virtual Dive; Behind the Lens. Plus a Glossary of key terms.
TO BUY:
To purchase a signed copy of
Glass and Water
(for UK customers via PayPal only), please get in touch with the author here -
MARK HARRIS
For customers outside of the UK or not able to use Paypal, please visit Dived Up -
DIVED UP
Or from Amazon, please go here -
GLASS & WATER
TO PREVIEW:
If you would like a taster of
Glass and Water
please click on this link below:
5 STAR REVIEWS:
'It is clear that
Glass and Water
is a well thought through book that has been years in the development and writing. Mark has an encyclopedic knowledge of his subject and a clear and easy way of imparting his experience. The book is well laid out and designed and should be a must for anyone wanting to take pictures underwater' -
gofreediving.co.uk
'An outstanding resource for both novice and advanced freedivers, snorkelers and underwater photographers in general' -
deeperblue.com
'A very informative book which will help freedivers improve their images... The nicest surprise for me was the "Virtual Dive" chapter. This chapter alone was worth the price of the book' -
UWP magazine
'You will end up with an extensive skill set if you pursue all avenues of advice... A great addition to the bookshelf for photographers and freedivers' -
learn2freedive.com
'It's most unlikely that you'll come away without learning something brand new and innovative... I'm very impressed indeed' -
Martin Edge
There's more from
MARTIN EDGE
here
'
Glass and Water
should be as essential as a pair of fins and a camera for underwater photographers. Mark shares his tremendous expertise ... the methodical and well-illustrated techniques will benefit anyone wishing to produce great images in the sea' -
Brian Skerry
'Mark Harris manages to marry the disciplines without getting any more technical than necessary. He explains tricky concepts very clearly and, because no-one else seems to have tried it before, deserves credit for producing such a well-written and professionally produced book, generously illustrated with his and other freedivers' photos.' -
Steve Weinman, DIVER Magazine
'This book provides the reader with an excellent guide to starting or improving your free diving with a camera in hand. Free diving is a beautifully natural way to experience the ocean and the animals that live there. Photography is one of the most beautiful combinations of both art and science. This book shows how to combine both art, science and naturally, organically experience the ocean. I have been diving and shooting photos professionally for 20 years. This book is excellent companion for beginner or the experienced photographer looking to free dive.' - Luke Inman
'I feel like this book acknowledges that the reader could be on a wide spectrum when it comes to their underwater photography journey. Maybe they're experienced freedivers who've never touched a camera? Or maybe they're a scuba diving photographer who wants to learn to freedive? Either way, you can choose the points that are most relevant to your existing knowledge and experience while using Glass and Water to point you in the right direction.
Glass and Water is a great addition to a freediving course, and it will highlight what to improve on if you're already a recreational freediver.
Glass and Water helps you skip the pain points and shows you ways to be an efficient freediver-photographer from the get-go. This book is like having a talented and very British instructor whisper all his best tips into your ear. Mark knows what mistakes freedivers are prone to making and spells out exactly how to avoid them.' The Salt Sirens
'The main focus of the book isn't stationary objects, it is mainly about photographing living creatures of all descriptions, and Mark has a lot of experience in this area. There is a good section for the reader on the ethics and considerations of entering the underwater world and the impact of interactions with its natural underwater inhabitants. Photographers and freedivers can be amazing ambassadors for the Underwater world; we must not damage it in any way and limit interactions that change behaviour. [link type="URL" url="http://www.scubaverse.com/book-review-glass-and-water-the-essential-guide-to-freediving-for-underwater-photography' - SCUBAVERSE